Genuinely welcome students of all abilities in your yoga classes!

The Blueprint to inclusive and accessible yoga classes.
Deliver chair based yoga classes to older, less able and chronically-awesome students with confidence and ease.
Gain a solid foundation of knowledge on how to:

- Design
and deliver chair based yoga classes.
- Show up
with confidence.
- Teach
effective chair based yoga classes that have a positive impact in the lives of those you teach and the community.


- Fill

your classes with your ideal students.



No more fumbling or fudging!!

5 monthly payments of £77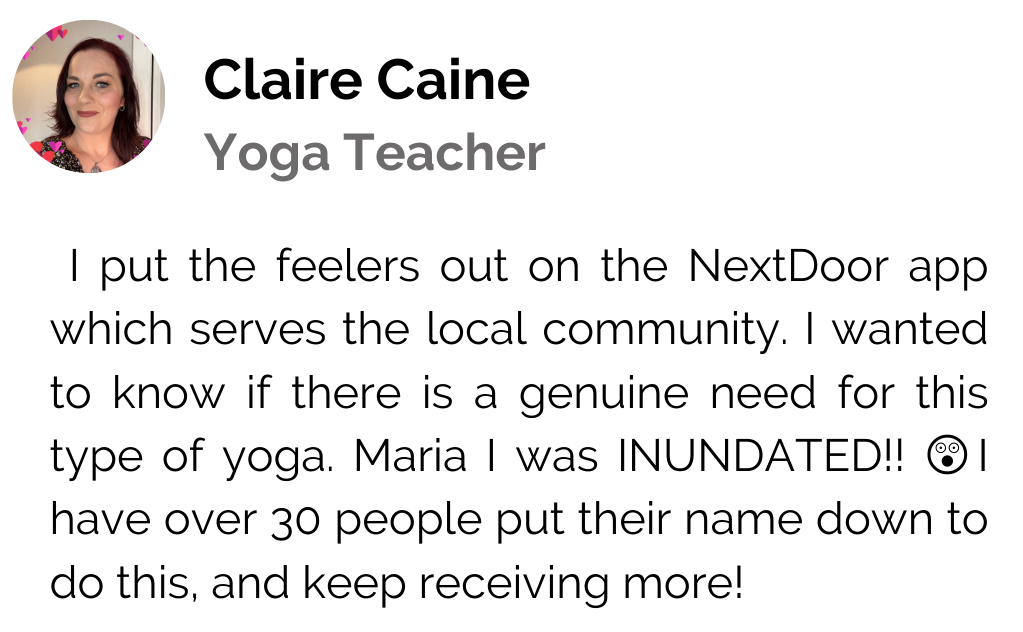 "Genuine need for this type of yoga"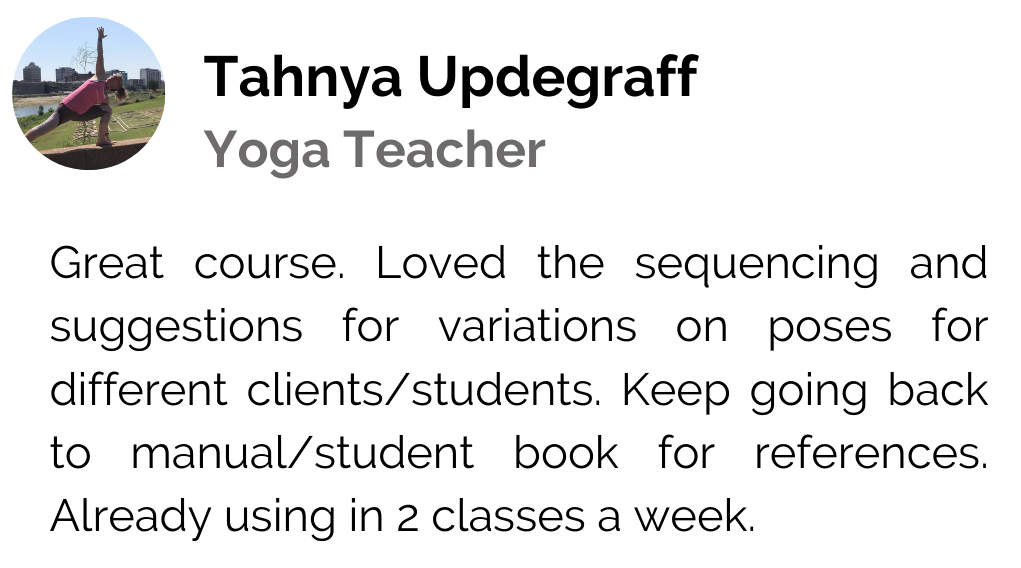 "Loved the sequencing"

CERTIFIED TEACHER TRAINING: 40h of specialist yoga education:
Core Chair Based Yoga Training: 20 CE hours
Marketing chair based yoga: 2 CE hours
Chair Integration: 8 CE hours
Practice and self study: 10 CE Hours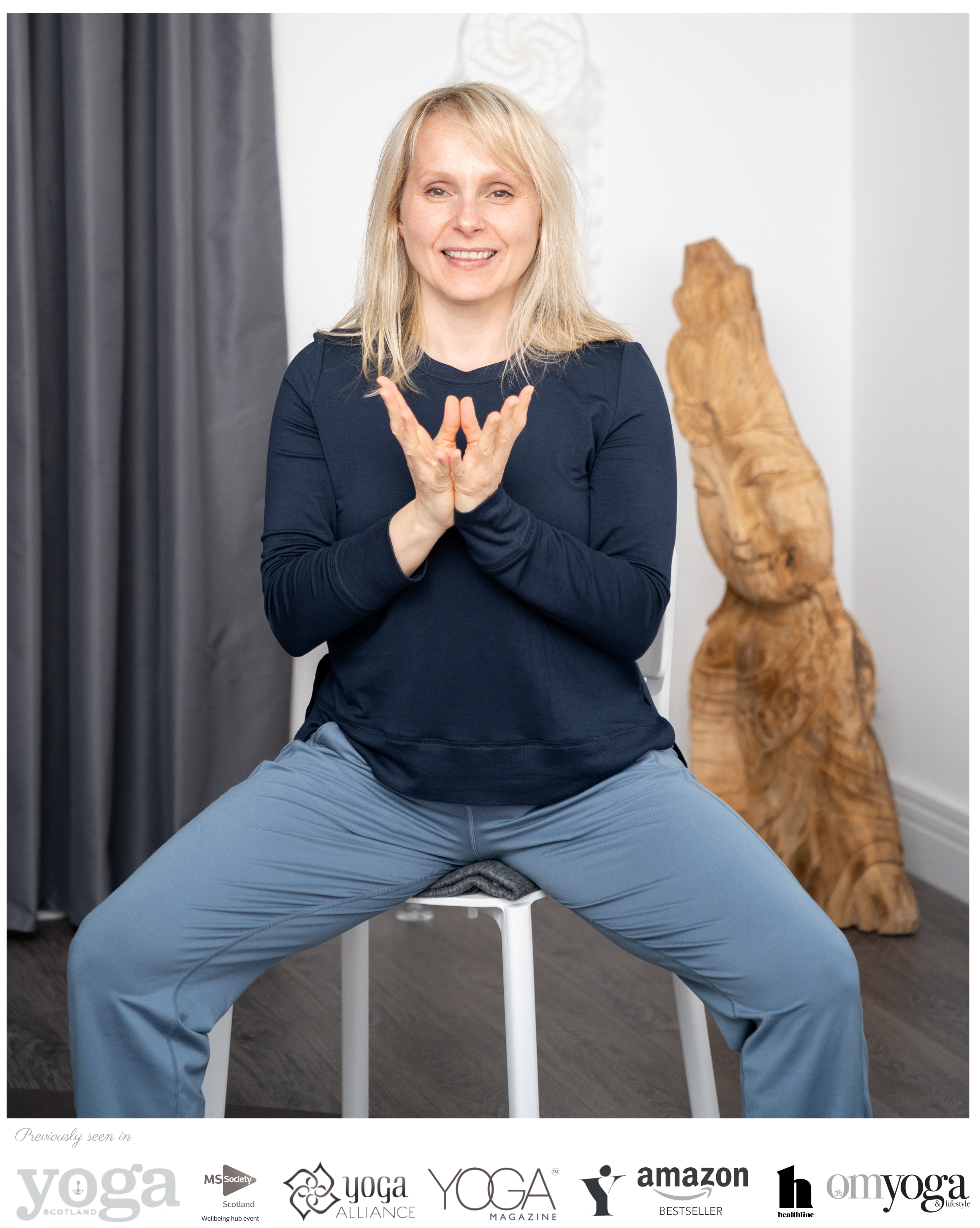 Hi! I am Maria and I am your course tutor.


I am Health Professional (BSc) and Yoga teacher and therapist. (RYT 500, E-RYT 200, YACEP)

I am a champion in chair based yoga and adapted yoga movement.

As a chronically ill person, I have not always been able to practice yoga with ease. Either in pain, or experiencing fatigue, stiffness and weakness in my body it has not been easy to find yoga classes that accounted for my limited abilities.

When I became a yoga teacher I quickly decided to develop teaching skills that make the practice available to those less able, older and chronically ill.

Let me show you how also.

5 monthly payments of £77
40h specialist training
Ian Gourlay, Aberdeen Independent MS Chairman,
tells us about the impact chair yoga has in the MS community.

I have been teaching yoga for people living with MS in since 2017.
The most satisfying aspect of the job is to hear and see how the students benefit from the practices.
In 2021 I was able to reach Multiple Sclerosis Patients not just in Aberdeen, but Scotland and other corners of the UK.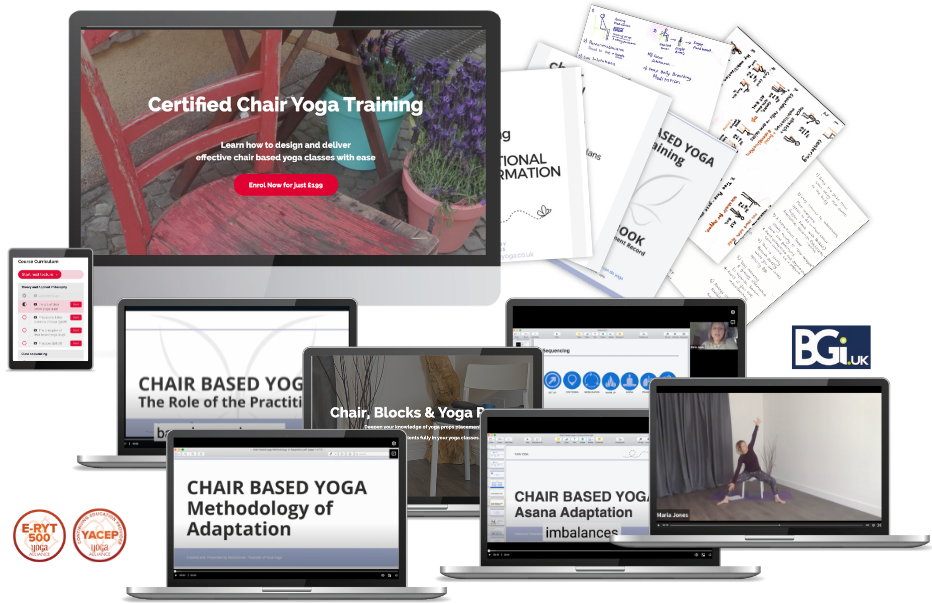 INCLUDED IN YOUR CERTIFIED CHAIR BASED YOGA TRAINING COURSE

🔥 Video Lectures and practice
🔥 Extensive library of video tutorials
🔥
Downloadable resources to help you start teaching chair yoga immediately


🔥 Comprehensive workbook to support you fully in your learning
🔥 Regular Live practice sessions
🔥 Lifetime Access
🔥 Dedicated Student only group

5 monthly payments of £77

AMAZING VALUE!
ENROLL AND SAVE
Core Chair Based Yoga Training = £299
Bonus, Chair Blocks and yoga props = £100
Bonus Marketing for Chair Based Yoga Teachers = £100+
Live class attendance online = £70+
Live study session = £120+

TOTAL VALUE = £689++
save £340+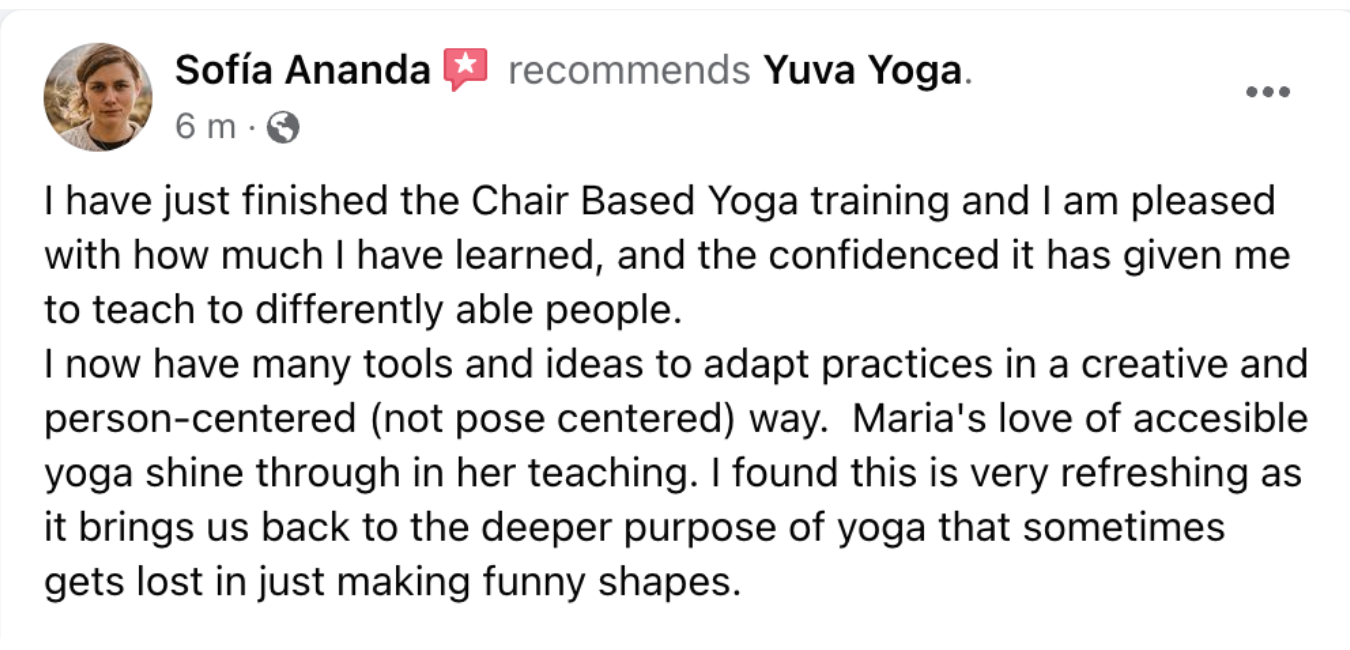 "…person centered, accessible yoga shine through"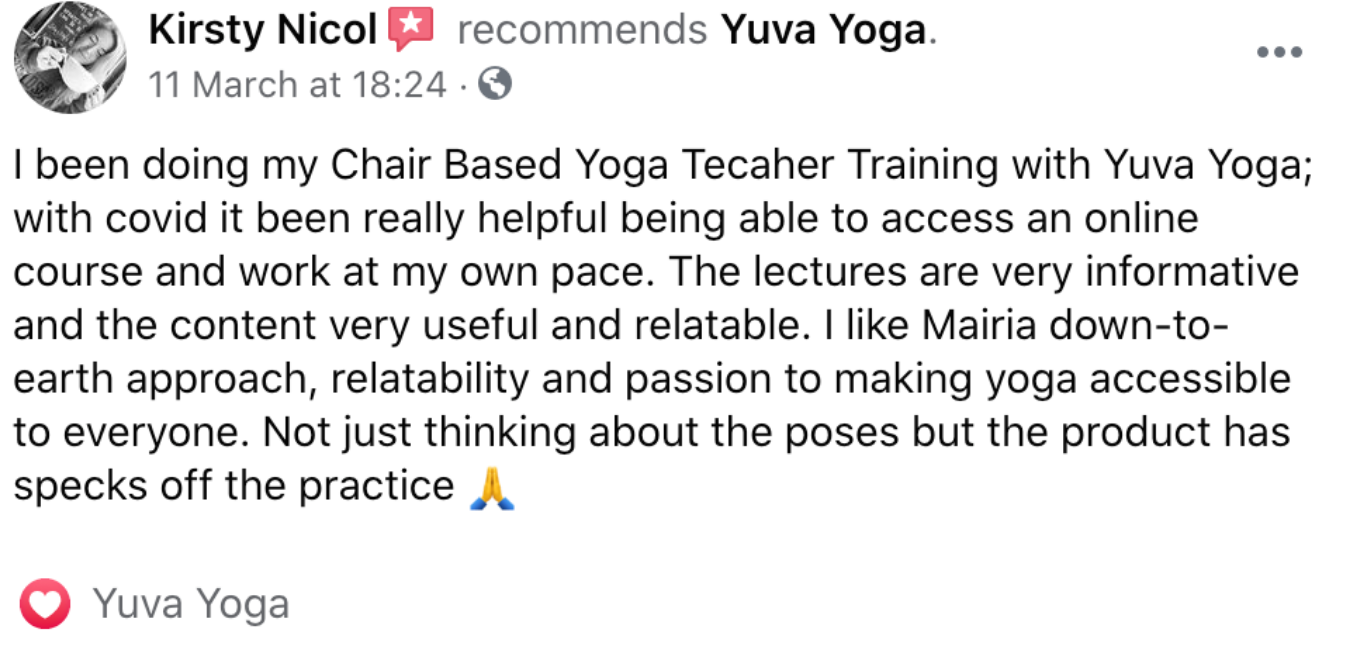 "…down to earth approach, informative, relatable"
CURRICULUM



① The Principles and Precepts of Chair Based Yoga
• Cultivate an attitude that allows you to show up with confidence and be of service to your students.
• Deliver person centred classes that are safe and effective.
• The Language of Chair Based yoga: Teach engaging and inclusive chair based yoga classes



② The Sequencing Framework
• A unique approach to sequencing your chair based yoga classes
• Design and deliver effective chair based yoga classes with ease
• Adapt your delivery according to your students' needs with each class



③ Practice
• Full length yoga classes and
• Extensive library of practical tutorial videos.


④ Adaptation
Learn to adapt the asana
• Without the use of additional props.
• Effectively target your students' imbalances
• And access the effect of the practice.
• Make yoga accessible



⑤ Anatomy and Physiology
• Explore 5 of the most common imbalances experienced by Chair Based Yoga students
• Learn how you can target these safely with chair based yoga asana.


⑥ Additional Information
• Expert support
• Additional resources and references
• Ready-to-yoga scripts

⑦ Chair Blocks and Yoga Props:
• Get the insights of how props can become tools in the practice of yoga.
• Deepen your understanding of the purpose, function and placement of yoga props.
• Become confident and efficient in the use of props for your students.
• Fully integrate the chair in your mat-based yoga classes.
• Create ease, comfort and make yoga accessible.
⑧ Marketing for chair based yoga teachers:
• Funnel Marketing Essentials: Define your niche, ideal student and offering.
• Partnerships: The strategic approach to being found by your ideal students

• Funding: Source and apply for a grant to run your classes

Self-paced with lifetime access.
- Entirely online
- With structured and organised lessons and targeted learning outcomes.
- Start, stop, fast forward & rewind your learning 
at your convenience, 
with
 lifetime access.
- 

Transform the way you design and teach your chair based yoga classes.
- Serve your students with meaningful practices.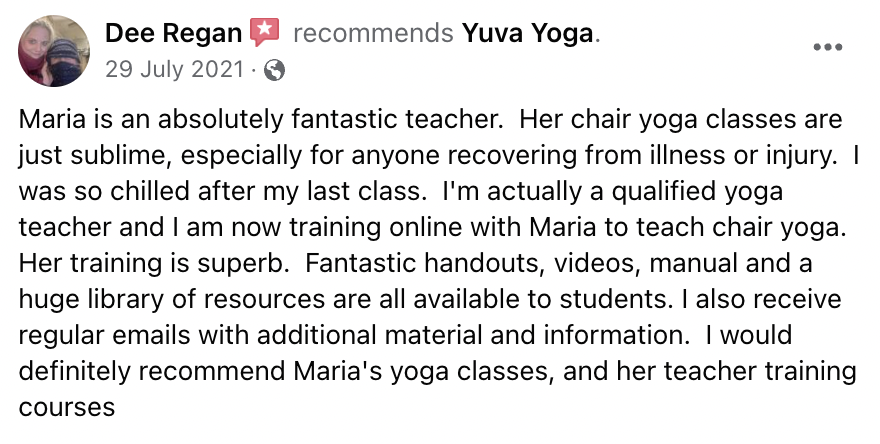 "Fantastic handouts, videos and a huge library of resources"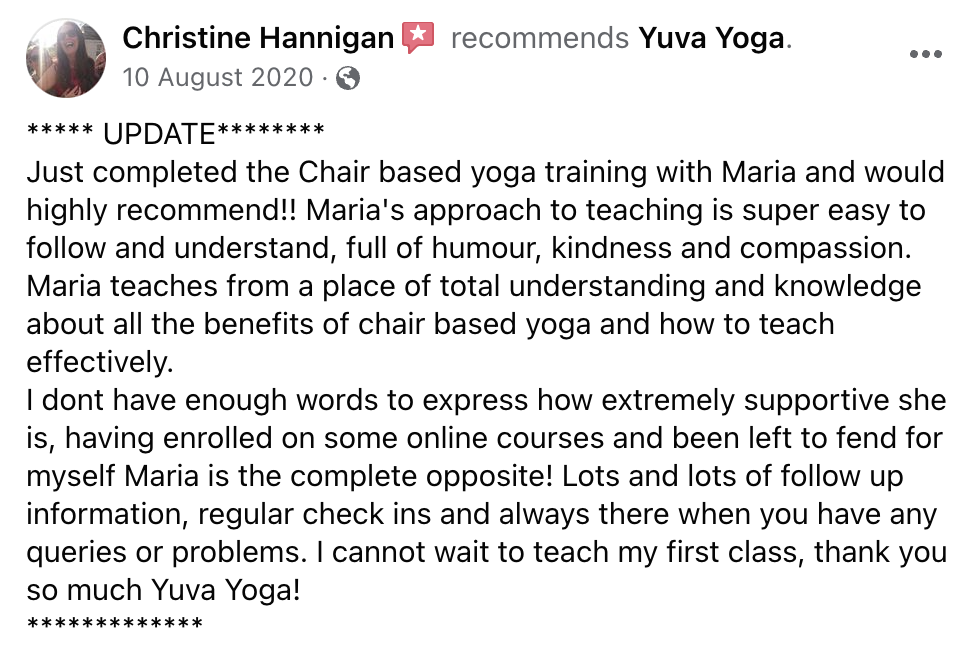 "Maria teaches from a place of total understanding and knowledge"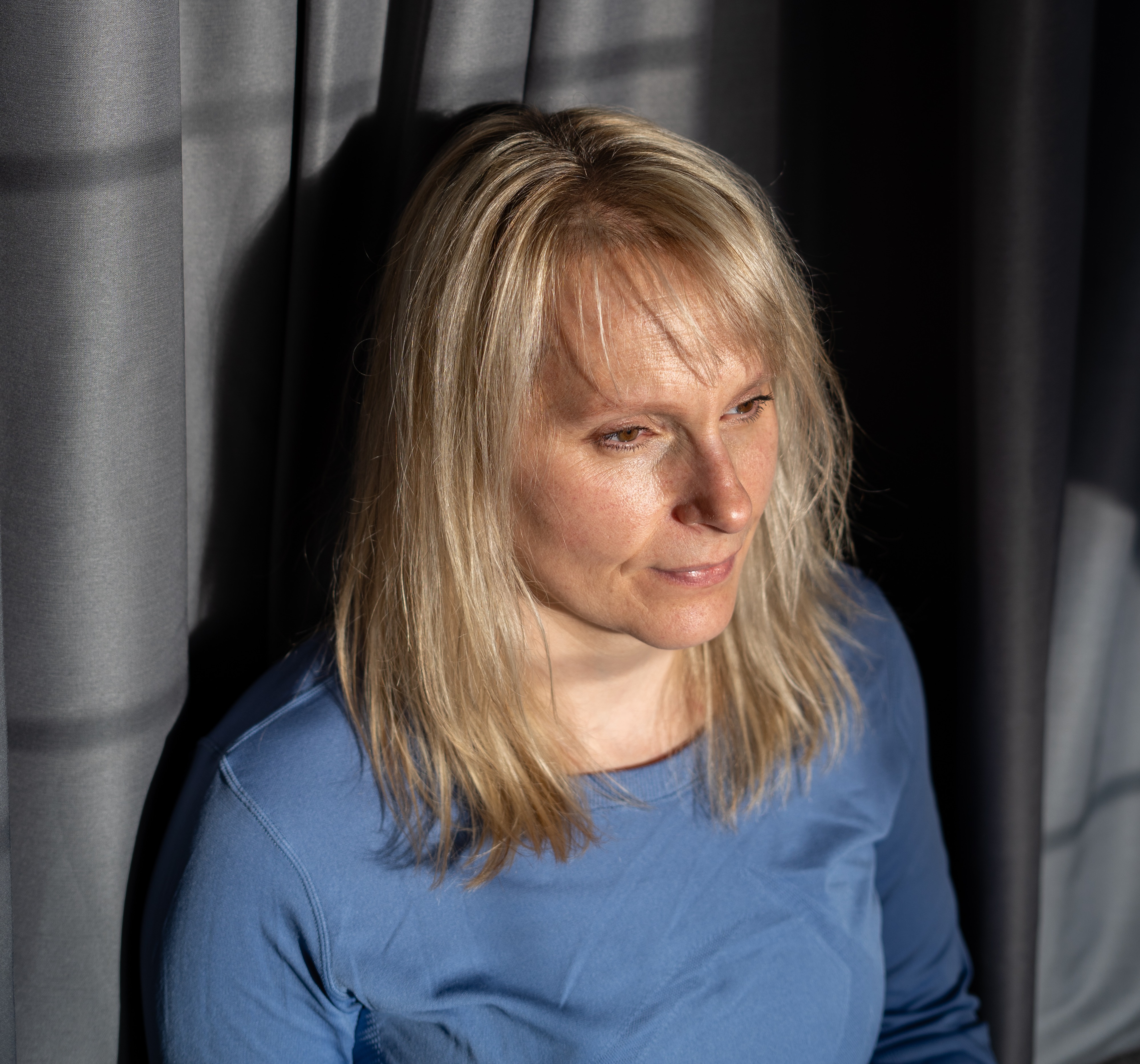 A personal note…
Adaptation is key to the practice of yoga.
Only when yoga is adapted to one's abilities, wants and needs it can be engaging.
Only when the practice of yoga is adapted to target imbalances it can be effective.
Adaptation allows you to teach the student not the asana.
As a chronically ill person practising yoga I want to see teachers provide students with practices that become tools to manage life and health challenges and feel empowered.
Life does not stop after diagnosis of a chronic disease and life can be fulfilling with the help of yoga.
I hope you join me on this journey of empowering others through adaptation in the practice of yoga
Maria x

The small print:

Prerequisites: It is advised that participants are yoga teachers or students or are trained to teach Chair Based Exercise. Carers, therapists, fitness professionals and school teachers may also attend provided they have been practicing yoga for over 2 years.
This training is completely online. You'll need access to a computer, reliable internet connection and a free zoom account (for attending live segment if you wish) plus space to move around a chair for practicing chair yoga. You'll also need to be fit and healthy to practice yoga asana and not practising against doctor's advice.
Recognition: A Yoga Alliance continuing education course. You will be able to register this training as 40 continuous education hours (contact) with your professional organisation.
Refund Policy: We offer a 7 day money back guarantee.